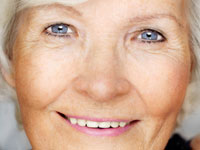 San Juan Capistrano dentures dentist Dr. Kluss has years of experience in fitting comfortable, natural-looking dentures that complement your individual facial structure. Cost-effective dentures can be an alternative to costly dental implants for our cosmetic dentistry patients. We also provide dental implants, cosmetic dentistry and wisdom teeth.
Properly fitted dentures can not only restore your dental health, you'll also look younger, feel more confident, improve your speech and regain the pleasure of eating the foods you love.
At Absolute Smile, Inc. we are highly skilled in complete dentures, partial dentures, and denture repair. You won't believe how easy it is to choose the right prosthodontics option for your lifestyle - or how dramatically a full set of teeth can change your life for the better.
Don't wait any longer - call us at (949) 496-4402 or complete our simple online form to schedule a consultation. Our mission is to provide all our patients with the best in dental care. There are many affordable options available if you've got questions about the cost of dentures and we'll be happy to show you a range of convenient financial plans that will fit your budget.
If you're looking for a highly-trained dentures dentist in San Juan Capistrano you've come to the right place. Dr. Kluss offers dentures dentistry that San Juan Capistrano residents have come to trust for the highest quality dental care.